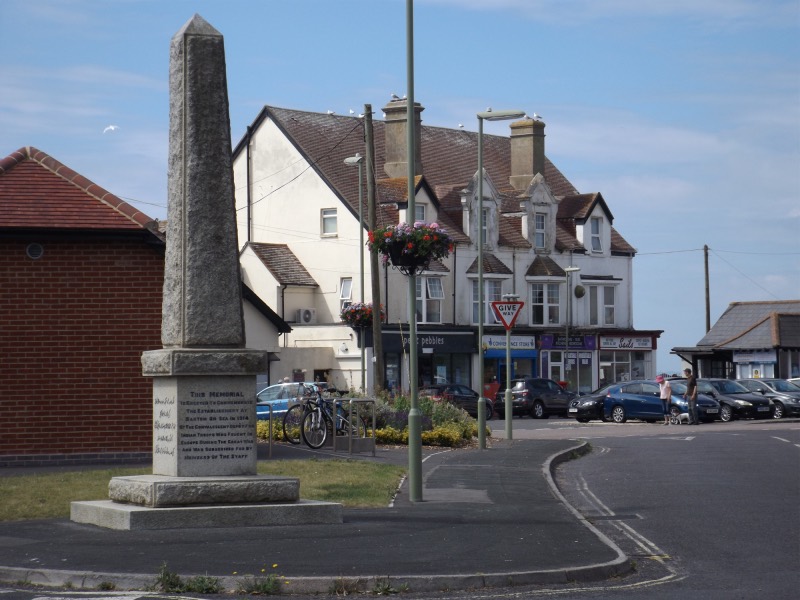 The war memorial at Barton-Sea was dedicated a hundred years ago today.
The ceremony took place Tuesday 10 July 1917 outside the clifftop Barton Court Hotel.
This is the oldest First World War memorial and it was erected before the end of the war.
The obelisk commemorates the establishment of a hospital for Indian troops who had served in Europe. The inscription on one side is in Urdu..
Britain's only other memorial to the Indian contribution to victory over the Kaiser was erected at Brighton Pavilion in 192i. By coincidence The Dome, a former tearoom opposite the Barton memorial and dating from before the First World War, has echoes of the Royal Pavilion.
A century ago Barton's memorial, at the south end of Barton Court Avenue, was just within the Barton Court Hotel grounds.
The hotel, described in 1899 as "a most delightful and unique retreat" with a nine-hole golf links adjacent, was taken over by the Army in 1914 to be "the convalescent depot for Indian troops".
Many soldiers were in huts in the grounds which the patients found cold. As a result the camp magazine was called 'Barton Breezes'.
Most of the Barton Court Hotel has been demolished as the cliff dramatically receded but the west end survives as a parade of seaside shops including Sails tea shop.
The name 'Barton Court' is still found on a gatepost.
Indian soldiers, a familiar sight at nearby New Milton Station, were also cared for at  Barton's Grand Marine Hotel which stood on the western corner of First Marine Avenue.