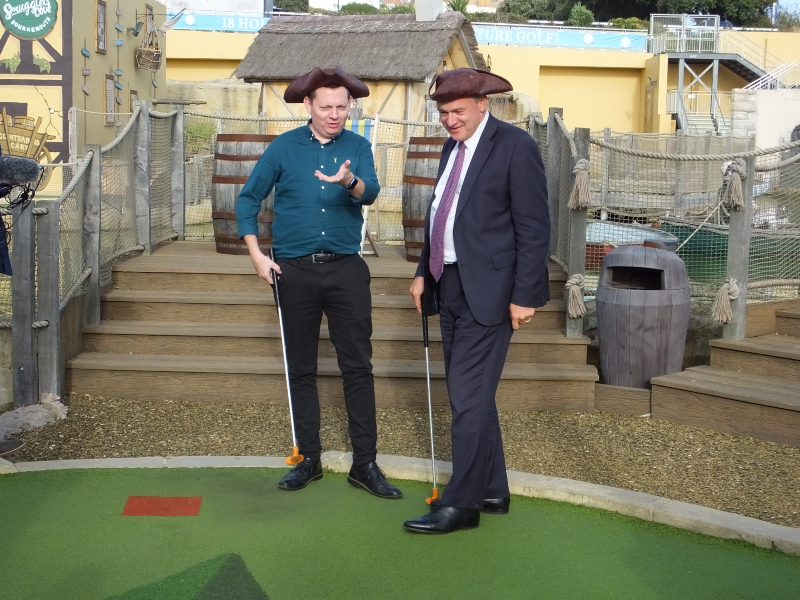 Liberal Democrat leader Sir Ed Davey has been up and down the coast path on Bournemouth's West Cliff over the weekend during the Liberal Democrat Conference at the BIC.
On Monday he was at the bottom of the East Cliff to enjoy some crazy golf at the Smugglers Cove golf attraction very loosely inspired by the town's smuggling history.
Sir Ed's golfing partner was Times Radio presenter Matt Chorley who hosts the popular 'politics without the boring bits' show every weekday morning.
Their round of crazy golf is being featured on Matt's programme this morning from 10am. Expect to hear Matt having difficulty getting his ball into an old tombstone and Sir Ed's interesting asides.
Afterwards Ed Davey and his aides walked vigorously up the West Cliff path ahead of Conference delegates streaming out of the BIC to the Highcliff Hotel.
The goats by the cliff path are proving a popular image to photograph and send home. Meanwhile the television news coverage with its Pier and Isle of Wight backdrop is proving a good advertisement for the coast path.
The Conference ends this afternoon with the Leader's speech.