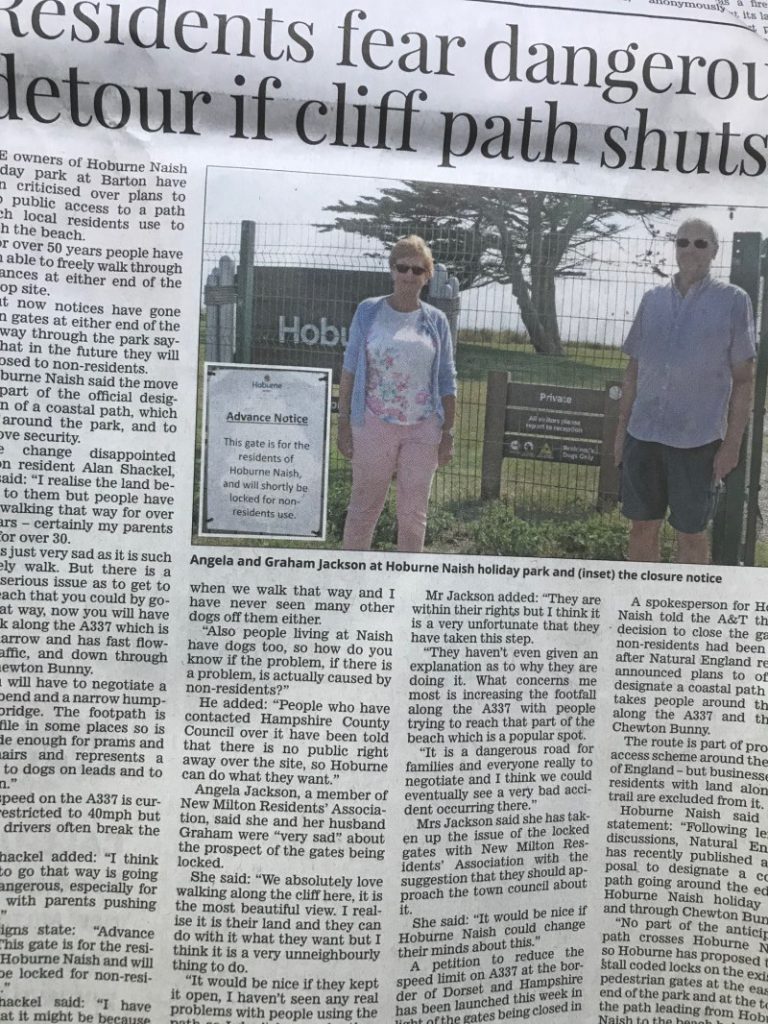 The coast path between Chewton Bunny and Barton-on-Sea has been in daily use by walkers for many years.
Indeed some might say that it should have been claimed as a public right of way since the cliff has been walked for more than twenty years as many can witness.
This weekend the New Milton Advertiser reports on the growing concern of local residents at news that the path is to be closed and cut off by locked gates at each end. This will cause walkers to take a long inland detour.
The change will come as a surprise to walkers passing along the coast path having come on maybe from the SW Coast Path and heading for the Solent Way.
However, those using the Exploring the Bournemouth Coast Path guide will find that the official route does go inland. This is because when the guide was devised in 1985 the land owner, Hoburne Naish holiday park, was unwilling to agree that the popular cliff route was a permissive path.
It is a surprise that Natural England now proposes to avoid the cliff top in its new coastal path plan. Whilst the crumbling cliff may suggest that the line of path is liable to change there is provision in the Natural England guidelines for 'roll back' as cliffs erode or slip.
If agreement could be made between New Forest District Council, Hampshire County Council, Natural England and Hoburne Naish there could be benefit for everyone.
Walkers, including local people, could enjoy the direct route along the cliff whilst the holiday park's cafe pub, in an 18th-century farm building, could be open as a welcome refreshment stop on the long distance coast path in all seasons.
Hoburne Naish (pronounced 'nash') had been a cliff top farm for about five hundred years until bought John Burry in 1920. His family's holiday business developed from two tin huts, one used by a shepherd, rented out in the summer holidays. Film director Ken Russell spent childhood holidays there when the holiday homes included railway carriages and single decker buses.