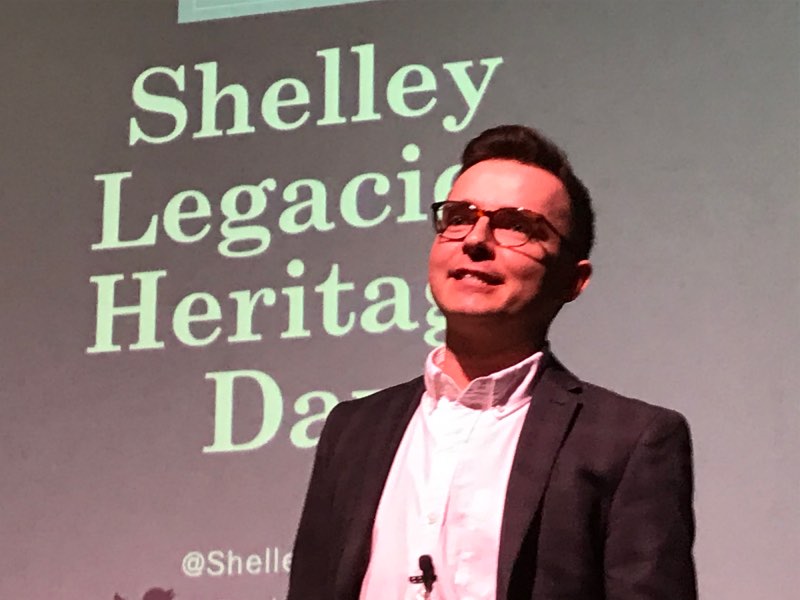 A hundred and thirty-five people gathered at Shelley Park in Boscombe on Saturday for the launch of a Shelley research project.
Shelley Legacies, headed by Dr David Coates of the University of Warwick, seeks to understand the connection between Sir Percy Florence who lived in the cliff top mansion and the Bournemouth area.
Guest speaker was Lord Abinger, Shelley family descendant and Keats-Shelley Memorial Association committee member, who spoke about his ancestor Floss. She was brought up at the house and lived there with her own children.
He also showed pictures of objects once there including a travelling writing desk where Shelley's heart was said to have been kept.
In an interview filmed at Oxford, Dr Stephen Hebron of the Bodleian Library spoke about caring for and writing about the Shelley Collection which was once stored at Boscombe.
The day conference, sponsored by the University of Warwick, took place in the building's Shelley Theatre where Sir Percy staged plays which he had written. He also painted the scenery acted.
The main drop scene depicted Casa Magni in Lerici which was the last home of Sir Percy's father, the poet Percy Bysshe Shelley. It is claimed that the house at Boscombe was built to resemble Casa Magni on the Italian coast.
Themes for research, as well as the literary connections and Percy's walking routes, are expected to include the Shelley family's Boscombe estate which ran to the cliff and embraced Honeycombe Chine and Boscombe Cliff Gardens. Sir Percy was instrumental in the building of Boscombe Pier. Lady Shelley 'drove the first pile' in 1887.
Sir Percy had bought Boscombe Cottage, as Shelley Park was then called, in 1849 to be a home for his mother Mary Shelley. But she died before the massive rebuilding was completed. Dr Coates suggests that one research team should investigate claims that Mary visited Boscombe before her death.
Her body was brought to Bournemouth to be buried in St Peter's churchyard in Bournemouth where she lies alongside her mother Mary Wollstonecraft who never saw Boscombe.
The heart of Mary's husband was also buried there after being kept at Boscombe.
The bicentenary of Percy Bysshe's cremation on the beach in Viareggio near Lerici is in 2022.
The day conference ended with Bournemouth Little Theatre Club members staging the first reading for 150 years of a play written by Sir Percy.
The Shelley Theatre's bar & cafe is open for coffee and lunchtime specials Mon-Fri 10.30am-3.30pm. Follow the path from the clifftop and enter from the north side of the building.