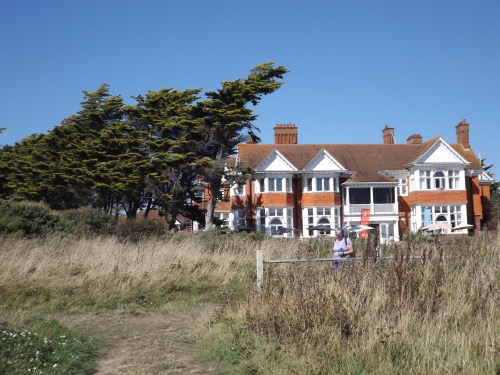 As urgent restoration work begins on the Westover sea wall at the western approach to Milford-on-Sea there is a long term diversion now in place.
New Forest District Council says that "no date can be given at this time for when the footpath may be opened up" as the land is unstable but adds that "ideally the urgent works will enable the footpath to be opened again".
Walkers will encounter a works compound at Paddy's Gap before seeing the main repair compound, with just arrived Norwegian stone, ahead by The White House. Bear half left to join the parallel road just before The Beach House pub.
Walk past the pub (right) and continue to St Francis Church. Here go right along Westover Road.
There is soon a view of The White House (right) which is under threat from the crumbling coast.
It is possible to rejoin the coast path by a bowling green and the Needles Eye Cafe.
**The Westover sea wall owes its name to The Beach House which is the former Westover built in 1897 for electricity pioneer Alexander Siemans.