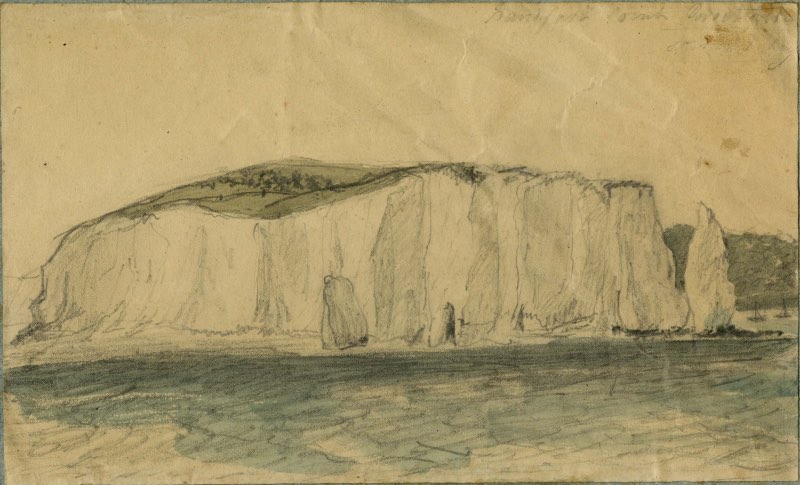 Two hundred years ago this month poet John Keats sailed from London to Italy where he died the following year.
What was that journey like? It was slow and although we all know that Keats died in Rome he was sailing for Naples, a city familiar to Shelley.
His ship, the Maria Crowther, left Tower Dock on Sunday 17 September and sailed down the River Thames. After passing through St George's Channel, the captain took her into Portsmouth where Keats went inland to visit old haunts.
So it was not until Saturday morning 30 September that the Maria Crowther sailed into The Solent and past The Needles.
The passengers had a good view of the mainland as the captain cautiously sailed into Poole Bay for shelter before anchoring in Studland Bay.
Here Keats paddled in the water whilst his companion Joseph Severn, who was to nurse him in Rome, lingered on board painting the view of Old Harry Rocks.
In the bay, where a brief sandy cliff gives way to chalk there is a feeling of being enclosed by Bournemouth's Poole Bay, Hengistbury Head, Christchurch Bay, the looming Isle of Wight and Old Harry Rocks at the southern entrance to Studland Bay.
Today the gap into the English Channel between the Isle of Wight and the Isle of Purbeck's Old Harry Rocks appears filled by two giant ocean liners sitting out the virus.
This day in 1820 may have been Keats' last moment in England unless the rumour is true that their ship also went into Lulworth Cove before turning south into more dangerous water.
They arrived in the Bay of Naples on 21 October but, due to reports of typhus in London, the ship was quarantined until Tuesday 31 October, Keats' last birthday.
Keats and Severn reached Rome two weeks later where they were greeted by Dr James Clark who had found rooms for them next to the Spanish Steps.
John Keats died there very late on Friday 23 February 1821.
Dr Clark later came to know Poole Bay. He believed that the pines in Bournemouth contributed to the town's healthy environment and he lived in a house on the West Cliff called Eagles Nest with a view of Studland. The Eagles Nest site is now the BIC's Purbeck Hall.