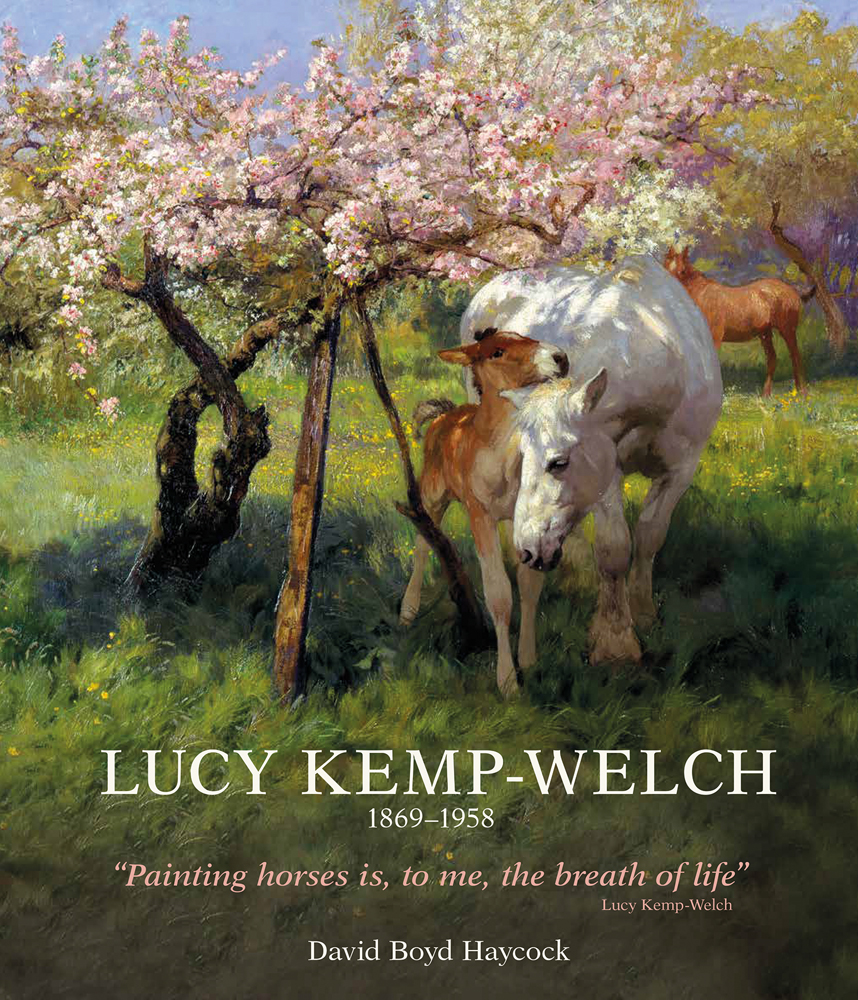 A major art exhibition In Her Own Voice: The Art of Lucy Kemp-Welch has opened at the Russell-Côtes Art Gallery & Museum on the East Cliff coast path at Bournemouth.
It is open all summer until Sunday 1 October before being shown at the National Horse Racing Museum in Newmarket. Lucy Kemp-Welch is famous for her equine paintings and especially her illustrations for Anna Sewell's Black Beauty.
Her first experience of horses was in Bournemouth where she was born in 1869. At the instigation of her mother, Lucy spent one day a week at a vet's infirmary at Christchurch where she was able to study the anatomy of horses.
In 1890, when Lucy was attending Boscombe's Drummond Road School of Art, her A drink by the way painting was accepted for the Bournemouth Industrial and Loan Exhibition at the Grand Hotel. The following year she won a place at the Herkomer School of Art in Bushey, Hertfordshire.
She became famous in 1895 when her Gypsy Horse Drovers was included in the Royal Academy of Art summer exhibition. That year she and her sister Edith spent the summer in the New Forest sketching horses and ponies.
The following year Lucy painted Foam Horses which we are told was 'inspired by the sea off Parkstone Beach, Poole'. Does this mean Branksome, Flag Head Chine or possibly Sandbanks? This was some years before racehorses were stabled at Sandbanks and the 'Foam' horses are thought to be army horses being exercised in the sea. The painting, now in the current exhibition, was another to be included in the RA Summer Exhibition.
In the 1900 RA Summer Exhibition she exhibited Horses bathing in the Sea, now in National Gallery of Victoria in Melbourne, which she had definitely begun with a sketch on Sandbanks beach. Purbeck and Old Harry Rocks can be seen in the background. She never used photography but always relied on pencil sketches made on site to complete the oil painting. This one was completed at Bushey where by this time she had made her permanent home.
Although living in Bushey she often returned to her home town where in 1924 she exhibited by invitation in the Bournemouth Arts Club exhibition. The following year she became its Vice-President. At the club's 1930 exhibition (at Poole Hill College; now Poole Hill Brewery) she showed Mixed Company of a Race Meeting painted in 1905.
The Russell-Côtes show, the first significant retrospective, is curated by art historian David Boyd Haycock and coincides with the publication of his new biography of the artist: Lucy Kemp-Welch 1869-1968 (ACC Art Books, £45).
Souvenirs available include tea towels and cards (Foam Horses post card 65p.)
Open Tuesday to Sunday; admission £8.50, student £4.10.